With IRIS, we provide you with innovative and modular software that further digitalises your production, networks machines and collects data from a wide range of scales as well as other quality parameters, consolidates them and evaluates them clearly in real time.
We thus take the digitalisation and quality assurance of your pre-packaging inspection (FPVO) to a new level - more integrative, more intelligent, more profitable and easier than ever before.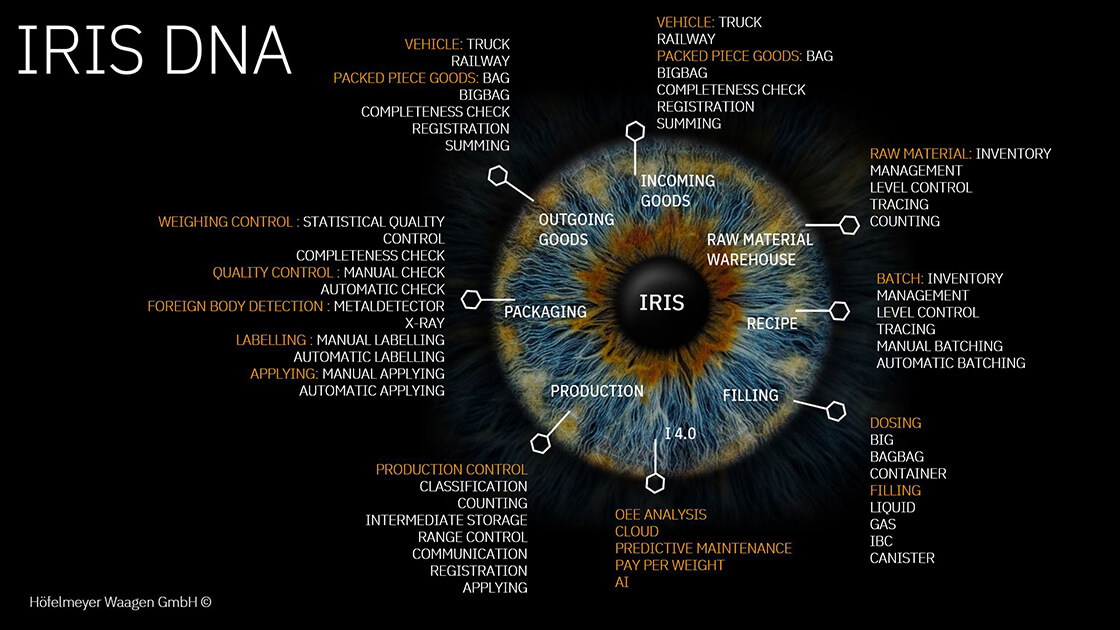 Switch from our HFPK to the future with IRIS Weighing Control now. You will be amazed at the unique added value and cost savings IRIS offers you:
Multifunctional quality parameters
Not only weight data are recorded and checked, but also other individually adjustable parameters, such as appearance, taste, temperature, consistency and much more.
Real-time information on all devices
Now you can call up all data in real time and not just when the batch has run through: detect deviations immediately and take suitable measures straight away. You don't even have to sit at the PC to do this - programmed independently of the end device, you are also informed about all processes in your production at all times via tablet, smartphone and, in future, also on a smartwatch.
Cloud or On Premise
Your IT security concept decides: IRIS can be implemented as a cloud solution or on premise at your premises.
Intuitive user guidance
IRIS is so intuitive and easy to use that you and your employees do not need a long training period and can therefore immediately benefit from all its advantages.
Future-proof
Through continuous further development and the associated updates, we ensure that your IRIS is always up to date, receives new features and thus protects your investment
Development in Customer Co-Creation
We have developed IRIS Weighing Control together with a select group of customers from the food industry and other sectors to ensure that the software is optimally adapted to your needs.